Daily Burn Fitness Trial
Online Workouts that Fit Your Schedule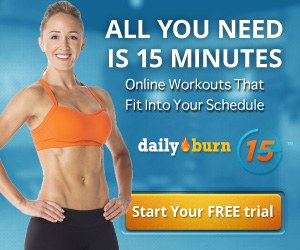 Stay home and get fit! DailyBurn is a unique health and fitness website that provides workout, nutrition programs and community support.
We love that we can stream the workouts right on our PS3 at home. It makes Daily Burn a most convenient option for home workouts, and with the huge variety of workout videos, we never get bored with the same old routine.
For a limited time you can get a FREE 30 day trial of the DailyBurn program. With this FREE membership you will get access to streaming workouts videos led by master trainers. There is no charge for your 30-Day Free Trial. After 30 days, you will be charged $10.00 (plus tax where applicable) recurring monthly or you can opt in for the $15.00 package that includes nutrition plans.
Cancel
anytime before your free trial period ends and you will not be charged.



(All posts may contain affiliate links. Read my disclosure policy here.)